< back to blog home
Introducing our new Quote & Invoice Generator: Easy Invoicing!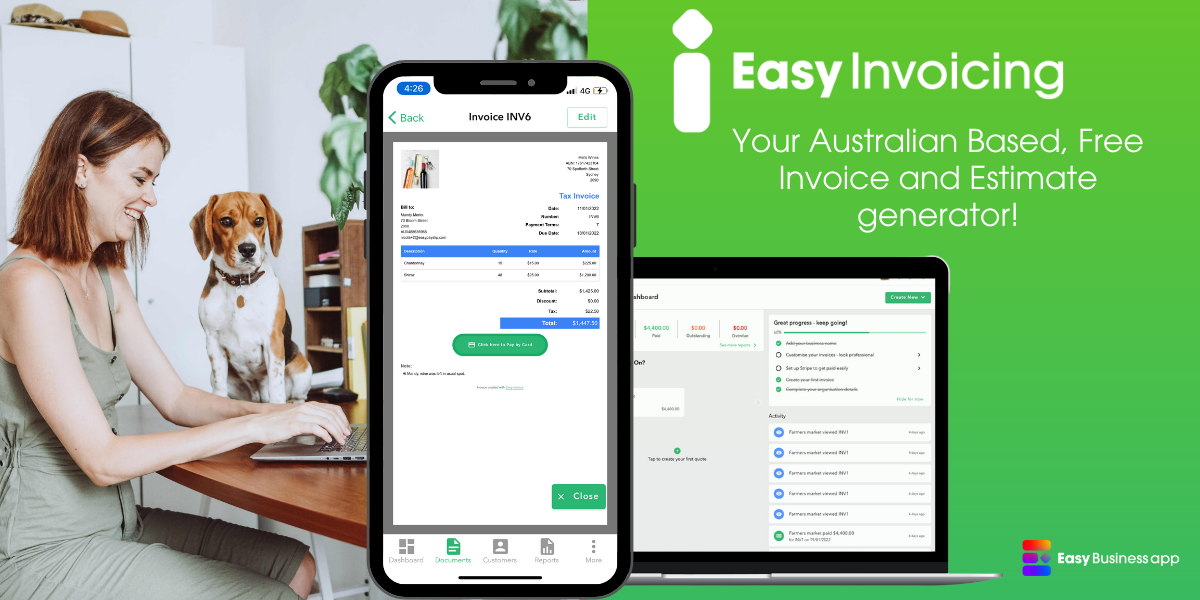 You've asked for it, so we made it — Easy Invoicing is now available! Thanks to our incredible team who's been working around the clock, we have relaunched as Easy Business App, the new ecosystem that is home to our much loved Easy Payslip and now Easy Invoicing, with more to come..

What is Easy Invoicing?
The Invoicing module has been highly requested by our customers and we are so happy that it's finally a reality.
Easy Invoicing is your Australian Based, Free invoice and estimate generator. There is no easier way for small business owners, consultants, contractors or freelancers to quickly create and send invoices on the go.

Our tech team has designed features that allow you to do all your quoting and invoicing within minutes wherever you are:
At a client's house? You can send an estimate on the spot.
Just finished a job? Invoice them straight away, in seconds and with a direct link to get paid — it's that easy!
Your choice of device: Mobile, tablet and PC.
Whether you need to create a construction invoice or quote, track overdue invoices for your side gig or generate a BAS/IAS tax report for your small business, Easy Invoicing is the way to go.

You can now do all your important invoicing and payroll in the one place, so you can focus on the important things.
All the features you need, in a user friendly invoicing app
Look and feel professional with beautifully designed and customisable invoices in minutes.
Send quotes instantly in front of your client, with confidence.
Track your customer activity in app or web: No more wondering if they received your estimate or opened your invoice... Easy invoicing removed the guesswork.
Get paid instantly with credit or debit card through our seamless Stripe integration

Help with your IAS/BAS with great reports

Get access to great technology and excellent local customer service... All for free.
Like the sound of it? If so, it's all yours.
How much is it?
Easy Invoicing is in Beta Version (this means that our team is still working on fine tuning some of the features and functionalities) is 100% FREE and unlimited until 30 April 2022. After this date, we'll introduce paid plans in the future in line with our pricing for Easy Payslip, although we do expect to maintain a free tier for Easy Invoicing with a limited number of invoices per month. (Rest assured our paid plans will be priced competitively). Find out more about our pricing here.
How do I get paid directly from my Invoice?
With our easy, one time setup, you can have a 'Pay Now' button on every invoice and give your customers a hassle free, one-click way to pay you directly from your invoice. How cool is that? 😎
Accept all major payment methods, including Visa, MasterCard, American Express, Apple Pay, Google Pay and more.
Learn more about getting paid with our payments partner Stripe.
Can Invoicing get any better?
With Easy Business App, it just might! To celebrate the launch of our new Invoicing Module, we're committing to planting a tree for every invoice YOU send this month*

Invoicing with us not only is paperless, which is already amazing for the planet, you will also be planting a tree to help local biodiversity in communities in need in Australia and beyond. Go You! 🌳

Find out more about this initiative (including terms and conditions)
Getting Started: Are you a current customer?
Login to Easy Business App
Start creating an invoice with our Easy Invoicing tool
Send your invoice!
Getting Started: Are you a new customer?
Sign up to Easy Business App
Fill in your organisation details
Start creating an invoice with our Easy Invoicing Tool
Send your invoice!
TLDR? Check out our Product Recap video below!