< back to blog home
Easy Reports Has Landed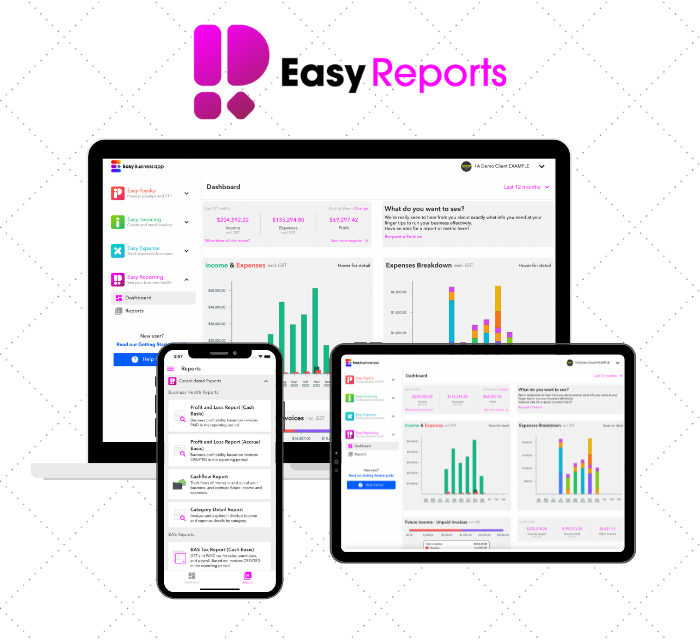 We've been working very hard behind the scenes the last few months, and we're delighted to announce that our latest module is now live — Easy Reports. And to top it all off, it is completely free to all Easy Business App users! Hooray!
What is Easy Reports?
Easy Reports brings together data from every Easy Business App module — payroll and super data from Easy Payslip, invoicing and payment data from Easy Invoicing and expenses and income from Easy Expense & Income. And, as usual, it's available on every device — mobile, tablet, desktop, laptop and even flip phones!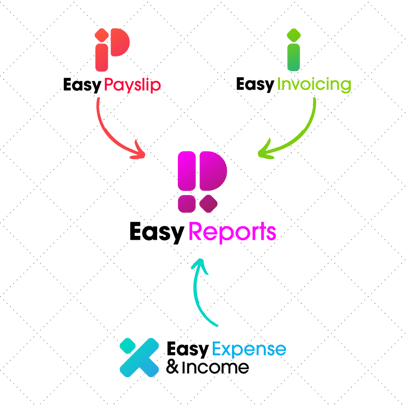 What can I do with Easy Reports?
Easy Reports is the simplest way to get the true picture of your business health. Want to see where you're spending your money from month-to-month? Need a good view of your income vs expenditure? Need a good view of your cashflow? Easy Reports is the place.
With a dashboard that shows you everything about your business on one screen, you can understand your business financials at a glance.
And our reports show the finer detail of everything going on in your business. And with our BAS Reports you can get precisely the figures you need for your BAS returns in seconds.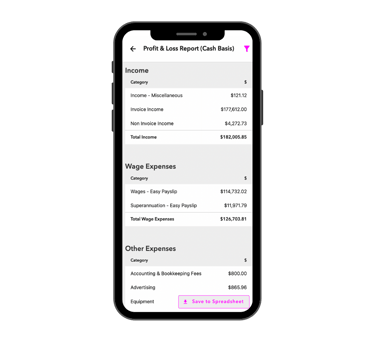 What reports are available in Easy Reports?
You can learn more in our detailed breakdown of Easy Reports, but in summary:
Profit and Loss

Cashflow

Expense Category Detail

BAS Reports
What's the coolest feature of Easy Reports?
We're actually torn on this one — it could be the dashboard, it could be the easy BAS report that lets you submit your BAS return in seconds, but this author's favourite feature is actually the drill-down-ability of the reports (that's definitely a word) that lets you get all the way down to document level (a payslip, an invoice, an income/expense item) with just a couple of taps/clicks.
You can see it in action in the video below.

Why did you choose the colour
pink

for Easy Reports?

One of the following is the true reason:
In Ancient Greek mythology the colour pink was most associated with Athena, Goddess of Wisdom. She came to our lead product designer in a dream, which we consider to be the origin of Easy Reports.
We liked that it looked bright and eye-catching.
We'll let you guess which one.
In the meantime, jump in, explore and let us know if you have any feedback, improvement ideas or requests!