< back to blog home
Introducing the Advisor Portal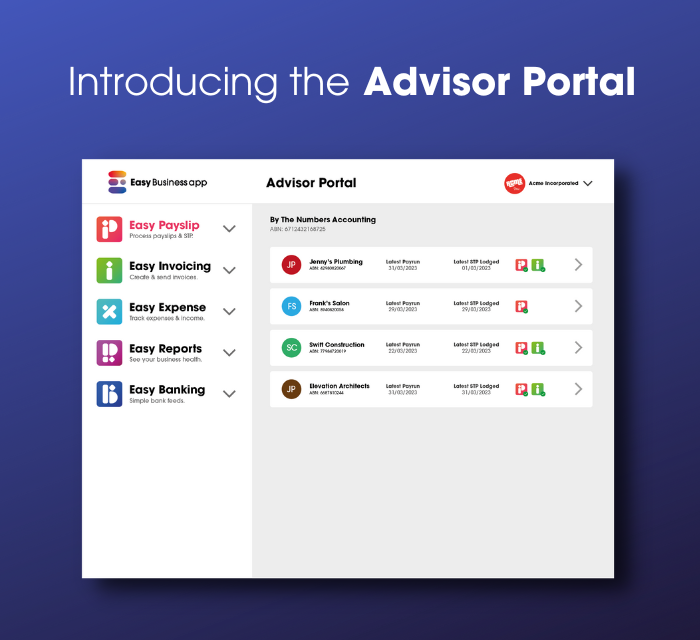 We've finally cracked it! The Easiest way for accountants and advisors to manage their micro- and small-business clients, all from one place. Introducing the Advisor Portal.
Anyone who came to see us at the Accountex Australia conference in Sydney this week will no doubt have seen a snazzy demo of this new feature first-hand. But for the rest of you... read on!
What is the Easy Business App Advisor Portal?
With our Advisor Portal you get your own dashboard to monitor all your small business clients in one place.

You can see their most recent activities and access their organisation in one click to drill-down into the details.

And it's completely free for Advisors. Already an Easy Business App accountant user? Simply click on the new Advisor Portal button in the header (it's in the hamburger menu on mobile).
New user? Just sign up as an Accountant/Advisor/Bookkeeper and you'll automatically get access.
Learn more about what makes Easy Business App the best choice for accountants.
You can invite your clients to join in a few seconds, and it'll take them less than five minutes to set up their accounts. And once they have done - you'll have full access to all their data. It's that simple.
What's that Demonstration Client I See?
Every Advisor Portal comes with a really handy demonstration client, full of sample data and a great way to play around and get used to using Easy Business App. You can do what you like in the demo organisation - all critical functionality is disabled.
You can't send STP, subscribe, send emails, or send anything to the ATO. Everything critical is blocked. You can create employees, payruns, payslips, customers, products, quotes, invoices, expense items, income items, and run reports!
It's a brilliant way to take Easy Business App for a spin in a safe environment. We're sure you'll like what you see!

If you don't see a demo client, click on the big "Add New Client" button and you'll see a little link at the button to create a new demo org! You can see more in our help document Understanding Demo Orgs.
I have some more questions!
Great! You can either contact support through phone, email or Live Chat, or book a demo with our Partnerships Manager to cover anything more detailed, or talk about how we can help you bulk onboard clients.
And if you have any feedback - we're always grateful to hear that too. Enjoy!